Passion, quality & experience
The passion for handmade jewelry making, the great experience gained over the years in the sector and the quality of precious metals worked, nestled in precious stones and diamonds, give life to a totally personalized jewel, unique in the world.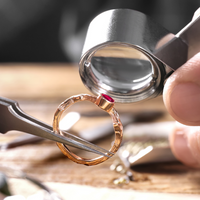 our collection of the month
OUR CUSTOMER REVIEWS
I purchased a gold ring with precious stones set on Cestarelli Jewels, in a very short time I received my order 100% same as website descripton and photos, i can confirm it's excellent quality of products.

Dave .D
I discovered Cestarelli Jewels online, I found earrings with rubies on the website that I could not miss, I proceeded to order and after a 10 days I received everything at home. Thank you so much Donatella!

Carolin H.
I was looking for a particular jewel for my better half, after some research I discovered Cestarelli Jewels with very beautiful and unique handmade jewelry and I immediately made my purchase.

Lucia S.
Avevo un'idea su come realizzare un anello da regalare a mia moglie ma non sapevo come realizzarlo! Ho conosciuto questo sito attraverso i social e grazie  Donatella (titolare dello shop) ho regalato un sogno! <3

Marco B.